Cross-cultural & intercultural training
Cross-cultural training & intercultural team-building – CUSTOM WORKSHOP
Group Size:

You decide

Length:

1 hour to 2 days

Custom Workshop Price:

Contact us
Some international teams excel, leveraging their differences for market growth and creativity. Other teams alienate one another with communication style, planning, and conflict resolution differences. This is particularly true with international, virtual, and remotely-located teams.
Our intercultural team-building workshops help individuals to see their own style and those of others, enabling insight into cultural differences and allowing trust to form. International differences are cast in a positive light, as teams teach one another and develop a vocabulary to discuss and understand different approaches.
This course is available in English, and appropriate for those that speak English as a 2nd language.
Cross-Cultural Training & Intercultural Team-Building is specifically for international teams:
Participants constantly move and interact with each other as they build awareness, explore their own cultural styles, and open their minds to the different styles of the other team members. They learn and use practical and interactive tools to develop their communication skill within the team and beyond.  Teams laugh at differences, develop a new vocabulary, and start communicating on a new level.
Team-building is tailored to your team's needs, your business goals, and your company culture. We offer various formats, including —
PART OF YOUR MEETING – 1-2 hour presentation plus 1 or more exercise — Teams are introduced to the topic of cross-cultural training and intercultural communications.  They explore the damage and the benefits that culture differences offer.
IMPORTANT PART OF YOUR MEETING – half-day session — Build stronger awareness and insight into the underlying structures behind international business.  Teams gain knowledge and skills while becoming closer;  these are fast-moving and fun sessions that leave teams asking for more.
1-2 DAY TRAINING & TEAM BUILDING – Teams evolve as they uncover similarities and difference, work together to solve communication problems, and teach one-another about respect.  This is recommended for new teams and those experiencing friction.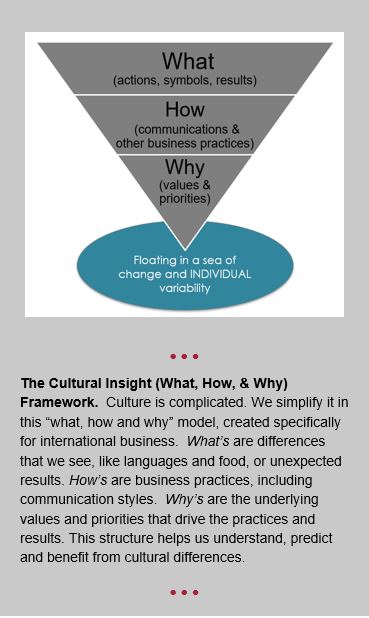 Who should attend team-building workshop:
These sessions are designed for international teams.  Our methodology is particularly well-suited for technical and business people.
Typical topics:
Topics are chosen based on your team's size and situations, your business goals, and the time available.  These are some topic examples —
What does it mean to be an international team?
Does culture matter? Personality, culture and human nature. (Examples and data to set the stage.)
Personality model and communications
Personality – Assessing ourselves and others – breakout groups
Defining culture – exercise
Culture – Assessing ourselves and our perceptions.  We introduce our Cultural Insight Framework using interactive human graphs to discover values to find similarities and differences.
Communication styles (and other business practices, as time allows).  In break-out groups consider communication styles and solve case studies considering all perspectives.  This workshop continues with other business practices include meeting practices, project planning, giving/taking direction, negotiations, and much more.
Best practices and our team's approach.  Numerous studies on international teams provide simple but effective tips for fostering teamwork and resolving differences.  In this section, we can just share these tips, or we can also enable teams to discuss and decide whether to accept our suggestions or to agree upon alternative approaches.
Building your team culture (using the above as a basis)
Tell me more.  These is a lovely sharing exercise that builds on the previous workshops and expands cultural awareness and relationships.
Conflict resolution.  This exercise covers conflict resolution styles and approaches to resolve conflict.
We close with a final and fun exercise around trust and teamwork.
What makes this Cross-Cultural Training & Intercultural Team-Building workshop different?
High energy, action-oriented.
Designed for business and tailored to your needs.
Taught by a facilitator with over 20 years of corporate international business experience and a masters in cross-cultural communication. (See below)
Provided by a native English-speaker with an easy-to-understand neutral accent.
Your facilitator:  Kimberly VanLandingham, CEO, trainer & speaker
Over 20 years of international and management experience with DuPont de Nemours – including Global Business Manager, EMEA Regional Manager, R&D Manager, and CE Corporate Growth Manager.
7 years as an Intercultural and Communication Trainer
Master degree in Cross-Cultural Communications and BS in Electrical Engineering
Keynote Speaker on culture and exporting at the World Trade Center, the European American Chamber of Commerce, universities and multinationals, and trainer for TEDx.
Board Member of SIETAR Switzerland (Society of Intercultural Education, Training and Research)
Price for Cross-Cultural & Intercultural Training & Team-Building:
We offer reasonable prices for custom preparation and facilitation at your facility, our facility, or virtually. With face to face sessions are preferred, interactive virtual sessions are also possible. Training is available in English and throughout western Switzerland, including Geneva, Lausanne, Vevey, Montreux, Sion, Fribourg, Thun, Bern, Biel, Zurich, Basel and surrounding areas.
Contact us          Cross-Cultural Courses
Contact us