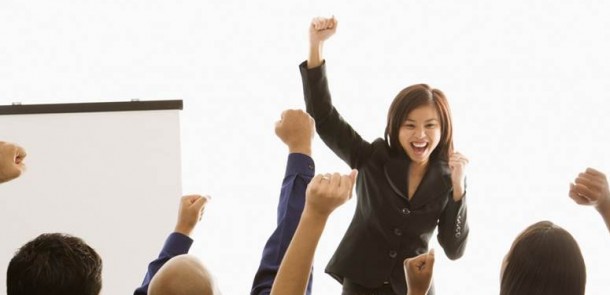 Presentations & other Business Communication
(2-3 Day Training Workshop)
Great presenters aren't born, they're made. While their presentations look effortless, preparations and practice are behind every great presenter and their props. This unique workshop provides a tool box and guided practice sessions for those wishing to improve their presentations and other business communication skills. The course is limited to 6 people, enabling practice sessions in a relaxed atmosphere, with self-guided video feedback. Underlying communication structure is also applied to business writing and meetings.  Though an innovative workshop, we reinforces and extends the learning process to these other business areas, while we continue to practice our presentation skills.  Attendees are given personal coaching around their individual style and goals.  The course is provided in English.
Who should attend workshop:
Management, technical, market development and other advancing professionals, who wish to improve their business presentation, writing, communication skills and perception in an international work environment.
Training seminar topics:
The course focuses on business presentations, alternating short theory reviews with workshops and presentation practice.  Each presentation is videoed for self-assessment and confidence building. Presentation topics include –
Building on the limits of the human brain.
The presenter.
Body language.
Knowing your audience, adapting to international audiences and culture tips.
Preparations and structure.
Opening and closing ideas.
Techniques to keep your audience's attention.

Dealing with questions after the presentation.

Overcoming fear & nerves.
Perceptions, listening and connecting to your audience.
You continue practicing presentation skills, while we extend the above communication principles into other business communications –
Business Writing – Tools to structure written communications for concise professional communications to achieve sales or other results.
Planning and Leading Business Meetings – Techniques for successful meetings.

 
What makes this course different:
Action-oriented and fun workshop, in a relaxed setting.
Lots of presentation practice with video feedback!
Designed for technical and business presenters.
Culture and communication tips for international audiences.
Personal coaching in small classes of 6 or less.
It's the REAL WORLD. Course developed by real business professionals for real business situations.
Integrated format efficiently covers several business communication areas using the same underlying principles, saving time and money.
Instruction in English by a native English speaker and business executive.
Participants will emerge from the class feeling more confident in their professional communications and public speaking.
This presentation training courses, along with several other related workshops are now available through our new brand and website – Presentation Training Switzerland.  We invite you to visit this site.


Integrated business communication training course, covering business presentations, public speaking, writing and meetings. Short seminars followed by workshops & practice session in English with personal coaching and video feedback in Geneva, Switzerland (Genève, Suisse).