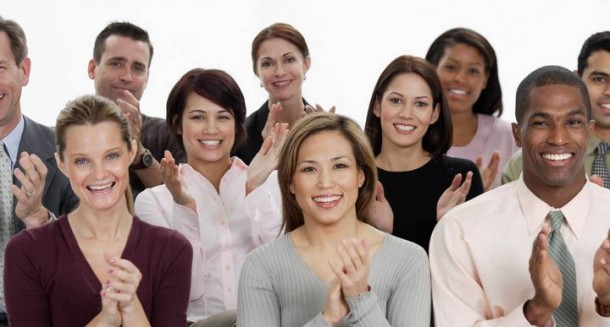 "The presentation course was fantastic and has helped me with presentations ever since. In a short space of time everybody on the course had dramatically improved the content, style and structure of their presentations. It was great to feel myself growing in confidence with my enhanced abilities over the duration of the course. Kimberly was great in highlighting cultural sensibilities to be aware, how to prepare before the meeting and how to follow up afterwards to achieve your desired outcome. I would unreservedly recommend this course."
"Highly recommended.  It can be very uncomfortable to go to a presentation course, being filmed and critiqued.  We were taken through this in a gentle and constructive way.  It has been a huge step forward for me."
"Fantastic, dynamic, knowledgeable and applicable course!"
"I certainly recommend this course.  (It was) very high value for money and time."
"I owe you a HUGE THANK YOU because of my presentation yesterday.  It went really well, actually I felt much better and more confident than even during the rehearsals.  The colleagues from the course were amazing.  Our presentataions are way more successful than the external ones.  Thank you again for this amazing journey, I never thought I would be able to make this.  I feel so happy and proud :-)"
"(The course) was very good, easy to listen and to follow, good feedback during the presentations and nice atmosphere."
"The course gave me a lot of structured knowledge to refer to, but I gained the most from the presentation skills workshops which helped me to build my confidence. And they were fun!"
"EML course was dynamic, inspiring and full of practical insights that only a person with real business experience can provide."
"Well structured and relaxed atmosphere to learn something new."
"Very interesting workshop with useful information and tips with an experienced and charismatic presenter."
"I really liked the instructor, lively, dynamic, funny.  All the information seemed to be valuable for me.  This is the best training that I have been to."
"Thank you Kimberly, very much.  It was nice experience and very useful training.  This will help us to improve our business communications for sure.  Your training is excellent."
"I was sceptical that I could stay focused for the 2 days, but you made the training very interesting.  You have been encouraging and at the same time gave many good tips."
"I like the personalized style of the training.  The coach has passion and has adopted a confidence building approach for the trainees."
"I enjoyed as we went step by step.  This helped in getting better from the basic to most complicated aspects of giving a presentation."
"The structure of the 2 days training was good.  I liked the combination of you explaining then us applying the information directly in a workshop."
"I can recommend these trainings without hesitation – learn from the professionals!"
"Professional, friendly, funny and good presence!"
"Too short!  Very informative and I would love to have done more!!"
"Made me want to learn more."
"VERY INTERESTING.  The subject matter really makes you think about how you are dealing with others and why you feel uncomfortable around others sometimes."
"It was great fun.  I learned A LOT!"
"I really liked the powerful exercises where we learned about each other."
"Loved the team interaction exercises…enlightening!"
"New insights are valuable for internal and external working environment."
"GREAT.  Very knowledgeable."
"Fantastic, dynamic, knowledgeable and applicable course! Great facilities and organisation. My team loved this event."
"It provided new insights valuable for the working environment, internally and externally."
"Everybody in our company should take the training & team building session. It really had us talking and learning about each other."
"The exercises were great. They gave us time to discuss our specific company situation."
"I have one word to describe the session: Enlightened."
"Great session, very knowledgeable instructor with real business experience."
---
Michael Iacovazzi-Pau
Program Director, G.L.I.P.
Manager of Global Engagement
Greater Louisville Inc, The Metro Chamber of Commerce
"I've gotten to work with Kim as a result of a referral by The European Chamber of Commerce in Cincinnati.  Kim agreed to work with us at Greater Louisville Inc. as the keynote speaker of a seminar called "Strategies for Doing Business in Europe."  Kim gave an outstanding presentation and received great reviews from the business community.  She has the ability to communicate complex information in an interactive and relevant manner for companies.  She was featured in our region's main business newspaper providing insights about the cultural norms of Germany and France.    Kim was highly professional, prepared, and very dedicated to building her consulting company.  I would recommend her services to anyone looking for an expert on the ground in Europe that has both the knowledge of European business practices and the familiarity of American business needs."
---

Olivia Dauvigne,
H
uman Resource Manager Eastern and Central Europe, DuPont de Nemours (Poland)
"I have worked with Kimberly when she was business development manager for Central Europe.
Kimberly has impressed me by her understanding of each country in the region, able to adapt the business approach to meet the specific business environment of each of those countries. She was instrumental in building a business development team, identifying the competencies needed as the region was growing, and leveraging the skills of a diverse group of individuals.
Besides her abilities to grow markets which she demonstrated then, she is certainly one of the most efficient person I had to work with, able to structure her numerous ideas quickly, eager to energize the people she works with and not giving up until the results are there. I can ascertain that Kimberly will always reach her objectives, and that the impact may be bigger than anticipated…"
Ingrid Moryl, 

Human Resources Manager, DuPont de Nemours Sàrl. (Switzerland)
"We know Kimberly to be a proactive employee, who is capable of excellent judgment and initiative and highly reliable. Her strategic and conceptual skills were always highly appreciated by those with whom she worked. Kimberly was a high potential Manager with the capacity to combine leadership qualities with entrepreneurial attitude and technical expertise, which allowed her to meet and even exceed her objectives.
She was a valuable asset to our company with her excellent interpersonal and negotiating skills, building strong relationships and interface internally, but also with our customers which lead to successful business development opportunities. Thanks to her positive personality and high energy level, she was highly appreciated individually, as a team member, as well as a team leader.
Her ability to adapt to changes, eagerness to learn and develop allowed her to successfully evolve and manage a variety of businesses, products, environments and people. During her employment with the company, Kimberly received various accomplishment awards and promotions which reflected the quality of her work, her commitment and the fact that she completed all her duties to our entire satisfaction.
Kimberly left our company effective January 31st 2011. Our best wishes accompany her for her future and we have no hesitation in recommending her to any future employer."




Presentation, public speaking and other business training courses in Switzerland from native English speaker with extensive real world experience.